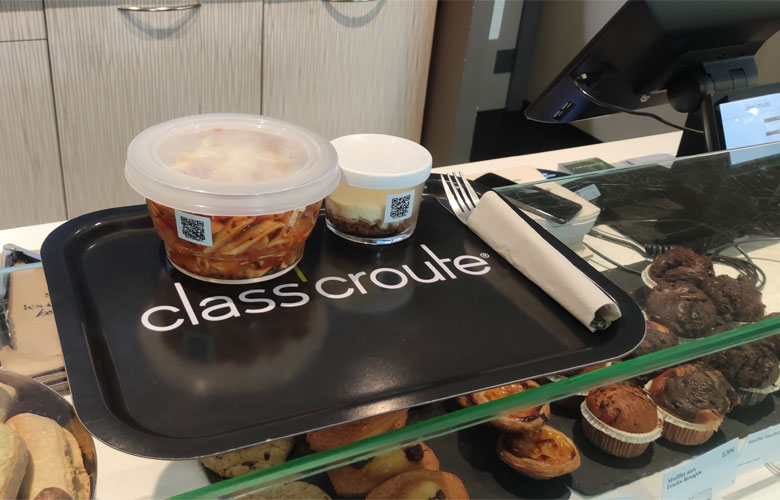 Commercial catering
Fast-food chains, caterers, connected canteens, event organizers
bowls, reusable cups, jars, boxes, cutlery, crockery, etc.
Your business: restoration,
our expertise: reuse!
We offer a number of customized packages to suit your needs and the size of your business.
Uzaje makes it possible to switch to reuse on a restaurant chain scale! 
You already use or are about to use reusable containers and tableware in your restaurants, sales outlets or events, but :
You don't have an in-house cleaning solution

Your cleaning systems are no longer adapted: not only to the new volume of reusable dishes to be processed, but also to the new materials to be washed and dried (plastics).
You have strong HR constraints and want to focus on your core business and not on cleaning
You want to leave the management of the cleaning process to a specialist who can guarantee sanitary quality and traceability.
You want to provide your franchise network with an economically and environmentally efficient outsourced alternative. 
At Uzaje, we wash your containers in the industrial center closest to our network!
The Uzaje factories are equipped with several state-of-the-art cleaning lines to enable you to wash a wide variety of stainless steel, plastic or glass container formats for commercial catering: bowls, plates, boxes, forks, knives, spoons, glass, gourds, mugs, trays, pots, jars, lids, bottles, containers, crockery, etc., as well as secondary packaging such as packing cases.
Why entrust your container cleaning to Uzaje?
Pooling and industrialization of cleaning processes to offer competitive cleaning costs per container compared with single-use.
No longer dependent on the availability of single-use packaging and price fluctuations
No investment in machinery, no team members dedicated to container cleaning
Reduce the ecological footprint of your restaurants through reuse: Uzaje provides your monthly impact report on CO2 savings, waste avoided....
Our cleaning tunnels consume very little water and detergents, and run on green electricity.
Hygiene and quality are at the heart of our business: we operate for players in the agri-food industry, and we check the effectiveness of our cleanings on every batch for every customer, according to the HACCP method.
Coconstructing together, the tailor-made re-use solution that meets your challenges for a responsible and virtuous consumption pattern.
At Uzaje, we pool the know-how of the players in the reuse loop to offer you cutting-edge support. Our aim is to provide you with all the strategic keys and operational action plans you need to make reuse a part of your daily life.  
Uzaje supports you in the key areas of re-use:
Sourcing and recommendations on the choice of containers
The switch to reusable containers is a major challenge for the foodservice industry. Together, we study your environment and recommend reusable packaging solutions adapted to your production and storage processes, while integrating the enhancement of your products and the consumer experience.
Our experience and expertise enable us to offer you consistent choices in durable plastic, stainless steel or glass.
Depending on your reuse strategy (on-site and/or take-away sales), the deployment of reusable tableware may involve setting up a traceability and/or deposit system to ensure the correct return of containers.
We study container flows and advise you on the best approach and how to implement it within your organization: QR code, RFID, loyalty card, deposit management account, deposit management application, deconsignment system....
On-site or outsourced cleaning, as well as the return of empty containers by consumers, requires the adaptation of catering and production areas.
We analyze customer and container flows to help you organize collection and container storage areas, as well as the choice of collection furniture.
Given the variety of restaurants in terms of catering space, production or volume, we study the options of in-house (point-of-sale or centralized) / outsourced cleaning and their impact on your operations, from an organizational, economic and environmental point of view.
We'll give you the strategic keys to a decision that's relevant and consistent with your network's operational reality.
Experimentation allows you to test on a small scale the reality and operation of a reuse system within one or more establishments, to learn from feedback from the field and adjust the solution to ensure your deployment with peace of mind.
We support you from A to Z throughout your project:
Definition of experimentation objectives, key success factors and scope definition
Set-up: recommendations on what needs to be acquired for the experiment to run smoothly (primary and secondary containers, return solution, process, etc.).
Project management: exchanges with restaurants and teams, on-site training of teams before the launch of the experiment. Follow-up throughout the project.
cleaning, collection and delivery logistics
Definition of measurement tools and KPI monitoring
Co-construction of communication elements
Consumer research
Assessment of experimentation, recommendations for deployment