Uzaje moves to the industrial stage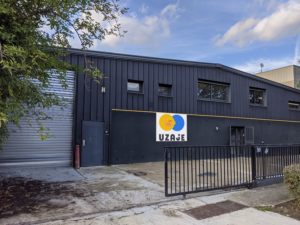 Uzaje has secured the financing of 1 million euros for its industrial center dedicated to Packaging reuse in Neuilly-sur-Marne (93) thanks to some private investors: "Île-de-France" Region, The "Caisse d'Épargne" and "Paris Initiative Entreprise". Uzaje is also supported by ADEME, CITEO and BPI.
The 2 main machines have been ordered: Washing tunnel for jars and dishes and Bottle washers. These latest generation washing machines emphasize the positive impact of reuse: Green energy, low consumption of energy, water and detergent products. This new industrial center makes it possible to offer alternatives to the "all disposable and all plastic" in collective catering, commercial catering and food distribution.
The industrial center will make it possible to wash up to 40 million containers per year, avoid 3 300 tons of waste and €900 000 of waste management costs. Moreover, more than 40 jobs in the social and solidarity economy will be created.
After launching experimental centers since 2019, Uzaje's goal is to link the French territory with washing centers dedicated to reuse by 2022. Uzaje IDF starts its operations at the end of November.