Franprix : Reuse for commercial catering
Goal :  asses throwable packaging's substitution by glass ones at Franprix's "snacking corner" as part of their  project to reduce plastic packaging.
[Experimentation from September 2019 to March 2020, program for reuse supported by CITEO.]
In-store offer – Self service product
The project is part of Franprix's program : "why throw packaging when you can reuse it ? ". Consumers can choose between durable or throwable packaging  for the same price over two catering offers.
Self-service product : consumers choose what they want to eat and their desired quantity.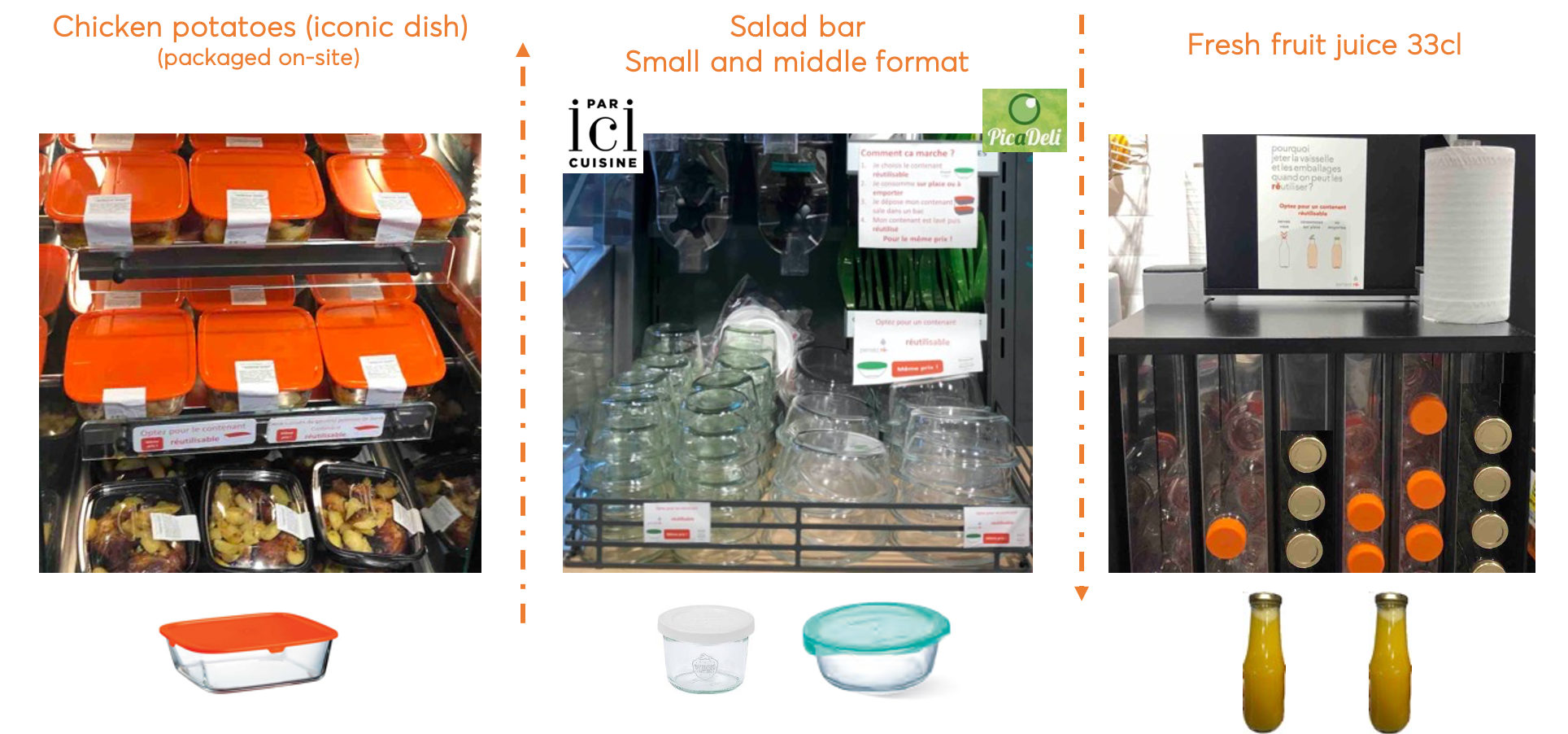 Pre-packaged products : consumers pick products from the shelf.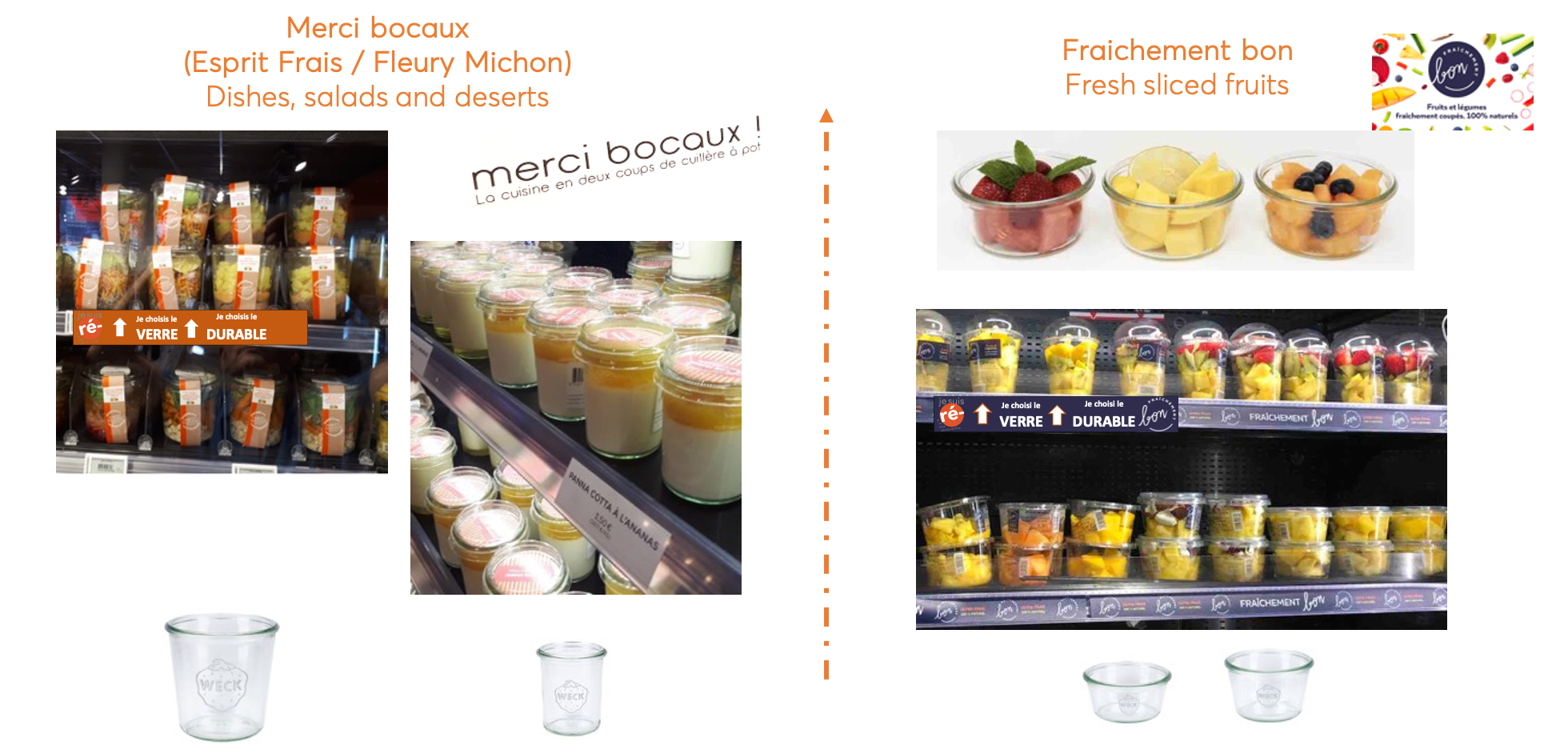 Dirty packaging collection
The collection of sustainable packaging is based on voluntary contribution, consumers can eat-in or take their products away and bring them back later on. As a first step, Franprix didn't ask for packaging deposit management for reuse.
Collection box are available in the snacking corner. Those box are collected by Fraichement Bon (fresh sliced fruits producer) during his daily delivery at Franprix's and sent to our closest cleaning center.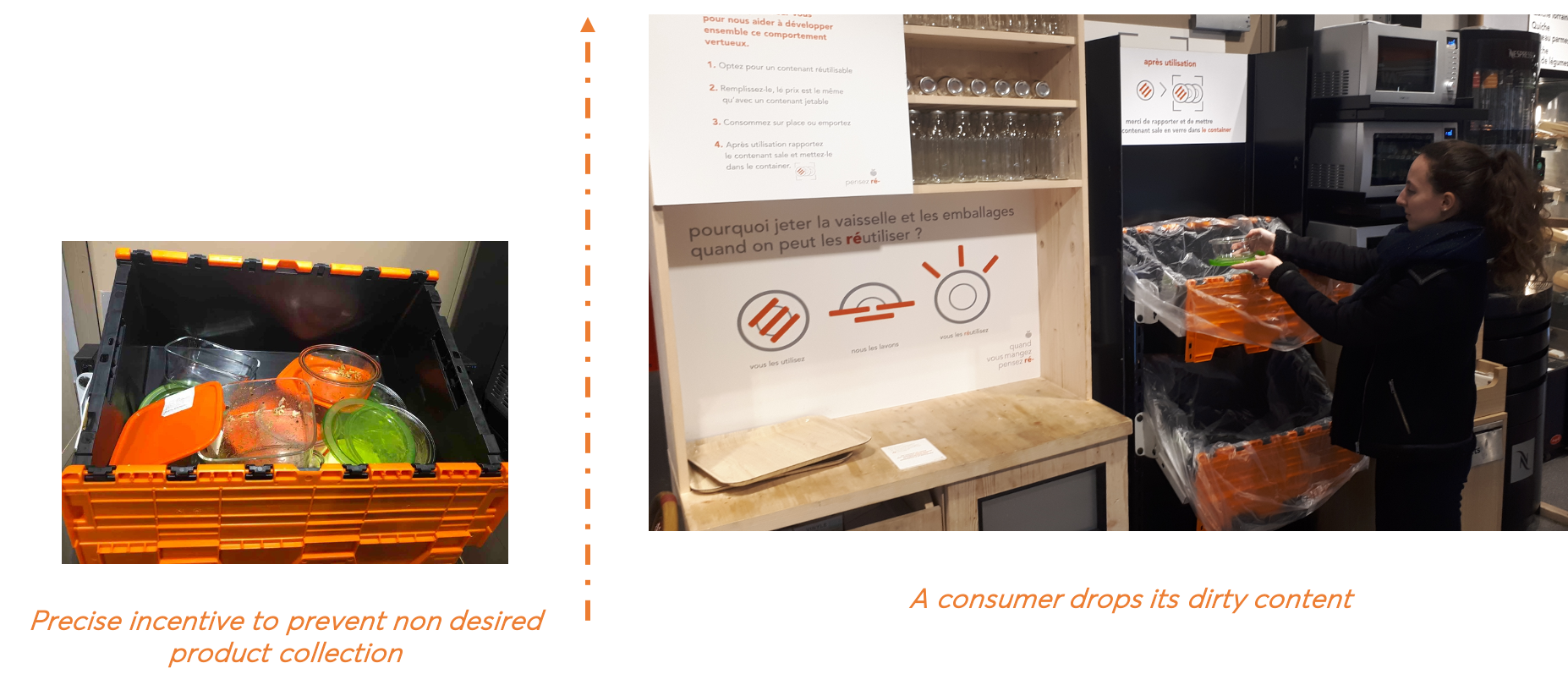 Communication
Franprix sets up dedicated communication to bring exposure to the project and support consumers in their new consumption circuit.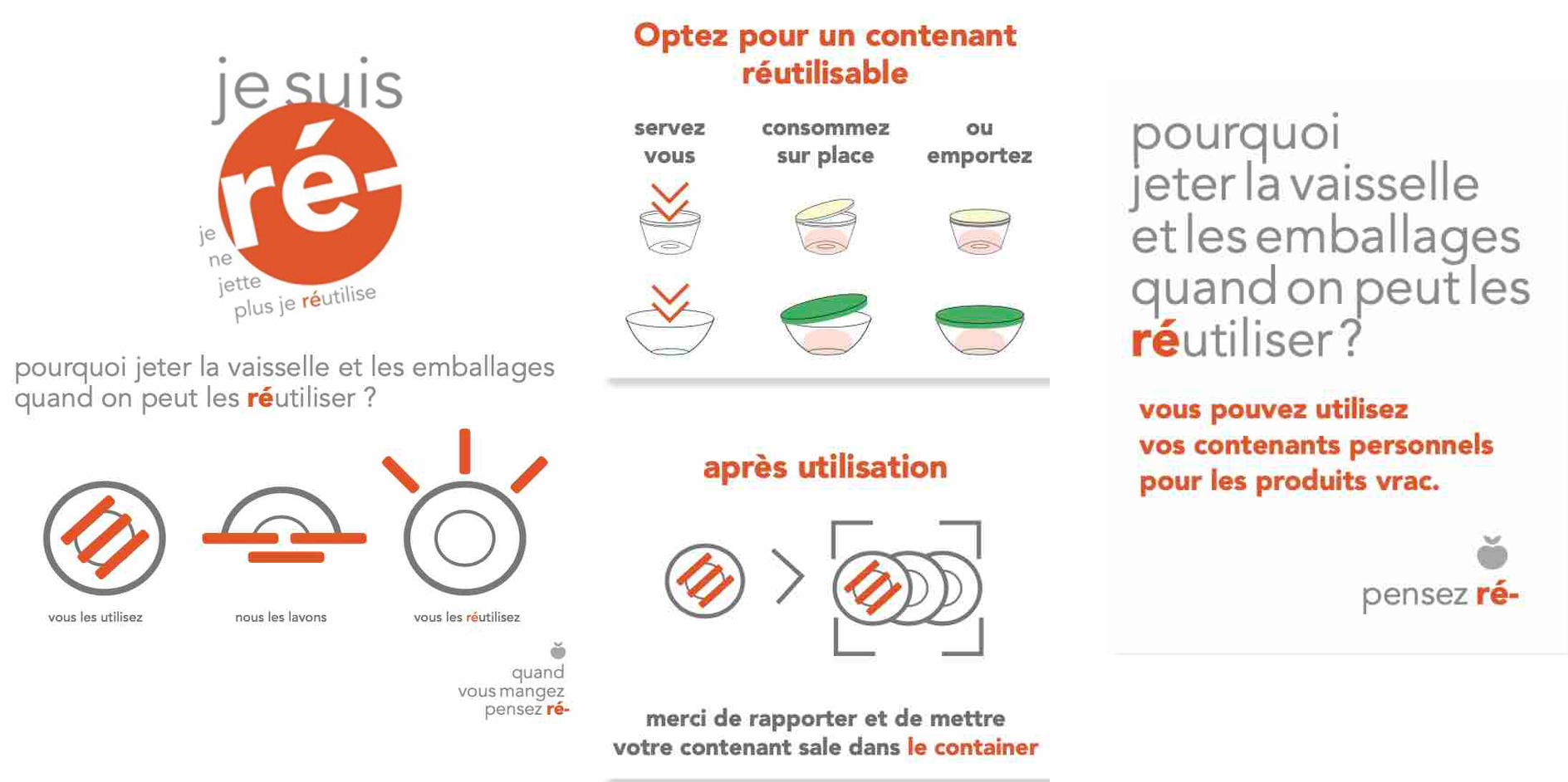 Packaging reuse scheme
We organise a reuse scheme that suits each shop's availability, location and opportunities. Uzaje washes dirty packaging in its cleaning centre located in l'Haÿ les Roses (near de Rungis), to stay close to consumption location.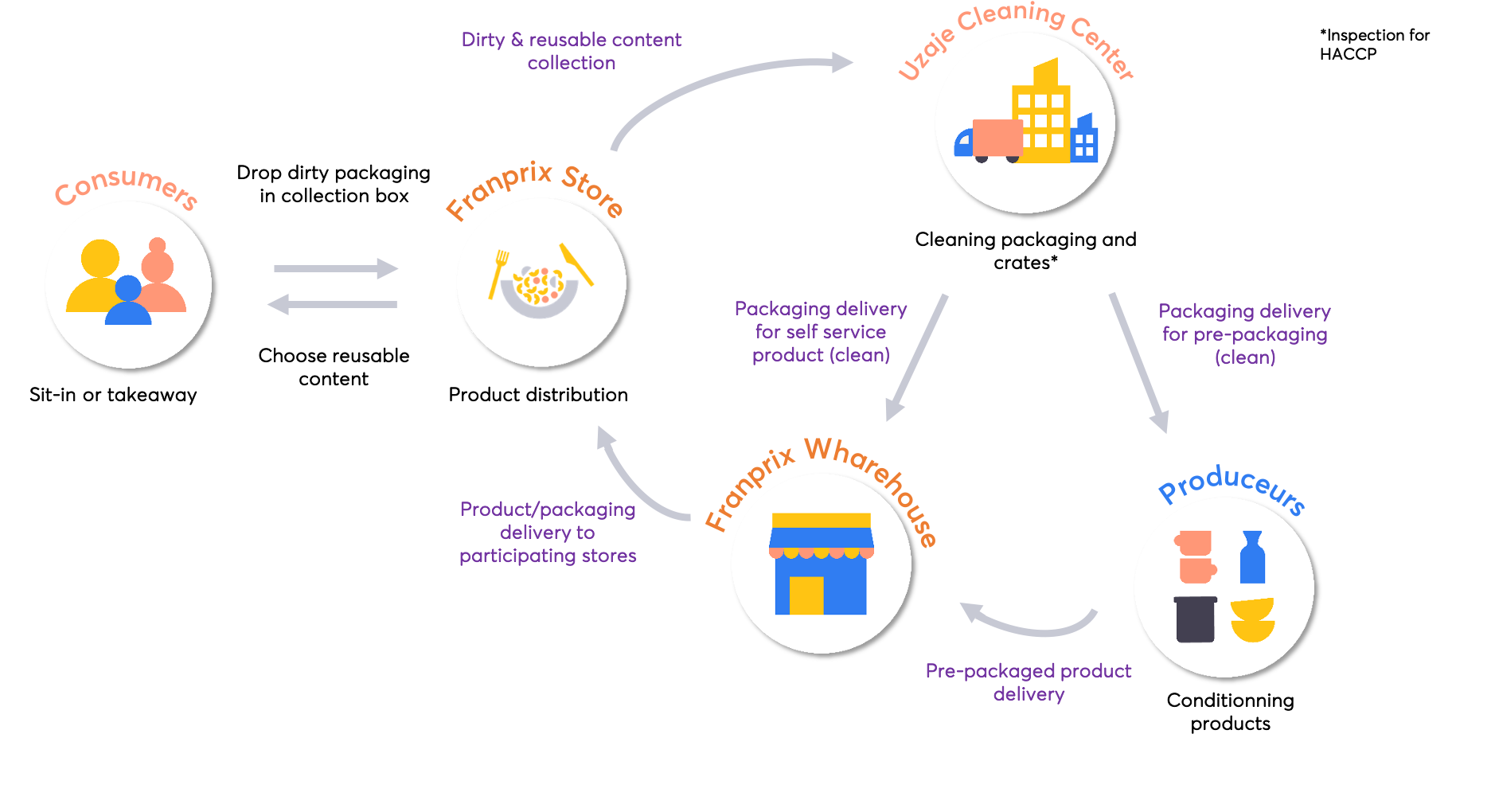 Uzaje's added value in the projet
Uzaje's role has been essential at different stages of the project.
Management:  technical solution research, KPI definition and follow-up.
Packaging counselling: recommendations for self-service reusable packaging choice.
Wider consumer offers for a complete meal: building partnership with Merci bocaux (salads and Fleury Michon deserts ), and Fraichement bon (fruits) to supplement self-service offer.
Technic and logistic: defining modality for packaging collection, managing delivery and pick-up, logistic partnership with Fraichement Bon.
Set up: Briefing managers and staff, upstream training sessions, regular check and follow-up on-site.
Communication: launch campaign, explaining the offer to consumers, leading consumers survey, press events with Franprix and CITEO.
Field results
Massive support from consumers
More than 7,000 glass packaging available for consumers since September 2019, 200 kg avoided waste.
Lots of loyal clients.
High exposure for Uzaje
Hundreds of articles (radio, written press, television).
« Franprix's feedback » – Cécile Guillou (DGE) interview from Citeo.
Award for Franprix « Trophée LSA de l'innovation » 2019 Concept alimentaire.
Efficient logistic from/to the stores
Controlled cleaning quality and hygiene.
Franprix requested to extend the offer to 100 stores, constraints to be lifted:
Logistic optimisation.

Deposit management set up.

Standardise packaging's appearance.

Cost modality: payment for reusable service.
Consumer survey
Survey conducted on 163 customers at Reaumur's store,  form September 21st to October 1st 2019.
Consumers are attracted by the "waste free" offer "in line with the times".
85% of consumers choose durable content.
50% choose reusable packaging for environmental motivations.
25% for a better experience, 15% for their health.
Over 65% are willing to come back to benefit from the offer.
Over 70% claim that they will bring the packaging back to have it washed.
86% stand ready to pay at least 1€ for a deposit.
Press and articles